Studies & Statistics
TransLink's long-term transportation strategy, Transport 2040, sets goals for the kind of transportation future we want—a system that's safe, fosters economic growth and lowers emissions. Learn about this strategy and view related documents by visiting Translink's Regional Cycling Strategy Public Consultation page.
Did you know cycling is the fastest growing method of travel in Vancouver?
Read more fascinating City of Vancouver cycling statistics.
Multilingual Cyclist Handbook
The new Cyclist Handbook available in five languages, reaching new communities with mobility choices.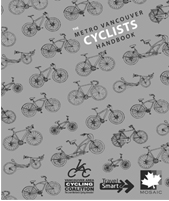 Health
Buying a Bike
Bike Safety & Tips
Been in a Collision?
Bike Theft
The Canadian Police Information Centre has a list of stolen bike serial numbers, so if you're ever questioning the origins of a bike you're planning to buy, check the list to make sure you're not buying stolen goods.
Cycling Skills Education
Cycling Safety & Bike Parking
Reading About Riding
Cycling & Sustainable Transportation Groups
Recreational Cycling Organizations
Municipal, Regional & Provincial Cycling Pages
Want to report a problem on a bike route? Find municipal contacts here.